Click and Collect
View at home, buy online and collect here at our shop. It's that simple.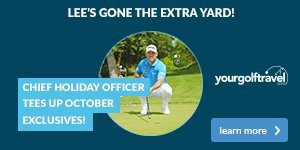 A little help from my friends
Seeing the 'Holy Trinity' of Jordan Spieth, Justin Thomas and Rickie Fowler having a great time together whilst playing the best courses in the world can leave you feeling a bit envious.
Go The Distance
We've all been there - around 75 yards out and faced with a tricky little pitch shot towards a tight pin; danger over the back and a tier just before the flag that will take anything short down to the front edge.